When I posted about my DIY treadmill desk, I was pretty jazzed. Walking while working really did change the way I approached business, life, everything.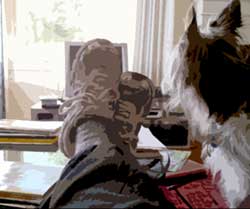 So it was puzzling when I began succumbing to old behavior – carrying my notebook to the couch and putting my feet up. It was the antithesis of my walkstation mission. What on earth was compelling this behavior? The answer turned out to be pretty simple.
My legs got tired and I just wanted to sit down.
Being Tired is Dangerous
On the uphill road to behavior change, being tired is a treacherous junction. You slow down. The fork you've taken for years is appealing and downhill. The first step is lush with relief. Sometimes it's even a little giddy. Wow this feels so good!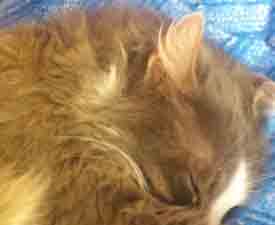 My fork-in-the-road is the couch. I put my feet up, rest my notebook on my lap, and immediately plug into a cozy neural pathway with years of precedent. Soon the cat is purring next to the keyboard. Awwww.
Then the dog snuggles in. I plunk plunk plunk… zzzzzzzzzzz.
It becomes easier to do it more often, the same way a few potato chips can turn into a bag, then several days and several bags.
Don't get me wrong. I do leave my work space regularly to make phone calls or do other tasks that aren't monitor-related. But sitting on the couch – for me that's kryptonite.
Lounging Instead of Walking

One dreamy afternoon, my daughter walked in and said, "Aren't you using the walkstation anymore, Mom?" I took my feet off the coffee table and sat up. "What do you mean? I use it a lot."
"Welllllll," she said, "I've seen you on the couch a lot."
Whoa. I took a deep breath, hoisted the cat from my lap and stood tall. "Get thee behind me couches!" I declared. "It's time to reclaim my energy!"
My daughter sighed. She's used to declarations.
Test-Driving a Walk/Sit Station
Walk/stand/sit desks are investments. Research supports their adoption as noted in a recent Forbes article. I contacted several companies, lots of options. I do a fair bit of work with businesses so I'm no slouch when it comes to recommendations. If I liked the desk, I'd purchase it.
Nobody responded. Duh.
GeekDesk Is the Answer
Then I called GeekDesk. GeekDesk produces high quality, moderately priced, walk/stand/sit desks that look snazzy and feel solid as a rock. Pat got back to me right away.  He supported my mission and offered a trial run. Then he gave me oodles of time to play with the desk, experiment, whatever.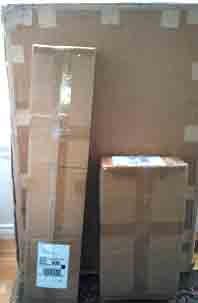 The desk arrived in boxes but it was easy to assemble and the instructions were quite clear. Everything was included. I asked a friend to help me do the assembly and as soon as he saw it, he wanted one too.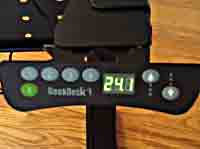 I ended up buying the GeekDesk. I just really liked it.
Today I still have all the amazing benefits of added focus, productivity, and best of, a dependable alert mindset. But I also have the option of sitting at a really cool desk. It changes height with the press of a button, thwarting the couch magnet. I easily switch from walking on a flat, under-desk treadmill to standing up to sitting down when my legs get tired or I need to do detailed work. My GeekDesk keeps me honest. Everything I need is on or under it. Plus, if I happen to want to go for a ride, the lift mechanism is plenty strong.
I've put together a three-post series chronicling my migration into walk/sit adaptations including with costs, examples, issues, online resources and suggestions. The first post is next week. My hope is readers will be intrigued enough to consider the option, especially if they're dealing with focus or energy issues. The message is simple and emphatic.
BUY AND USE A WALKSTATION!
It's a focal fountain of youth. And while you're shopping, do check out GeekDesk. They're a small US company with real people who make great desks and want to do right by their customers. I'm not an affiliate but if they had affiliates, I'd be one.
Let me know how you're doing as you adopt and adapt. What works for you? What's your walk/sit schedule? I'd like to learn from you and share stories. Onward and upward for all of us.