I'm confused. What exactly do you do?
I work for myself as follows:
I also sea kayak but so far no-one has paid me to do it.
What's keeping you occupied these days?
Well, working with Einblau & Associates in Vancouver, BC, keeps me very busy in Canada and in the USA. I craft customized, in-house sessions with targeted follow-up. Great stuff. Visit Einblau directly for details.
I drive the dog around.
I teach classes in WordPress, Microsoft Office, Adobe Premiere Elements, and content development. I also have private clients.
I'm president of the Bellingham Community Boating Center Board of Directors.
I mess around a lot on the computer. (My current computers include a Lenovo Desktop and a Microsoft Surface Pro 4. My daughters have Macs.)
I enjoy biking and kayaking and couch surfing with my family.
I'm writing a horror novel. Yep.
Will you go kayaking with me?
What are your favorite charities?
Why do you write only Busy People books?
I write lots of things. My other books are more technical and typically contracted by organizations. I've also written magazine articles, web content, and done a bit with Hollywood (my 15 minutes of fame, woo-hoo).
Why are there so many pictures of you on the website?
Oh please. As a speaker and writer, I essentially market myself so yeah, there are pix of me dotted throughout the site. I don't want you to be surprised when you meet me.
Where's your blog? You teach blogging so how come there's no blog here?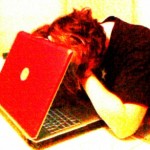 I know I know. I'm redoing the site and the blog portion still isn't live. It will be. Eventually. In the mean time, follow me on Twitter and LinkedIn. I post on behavior change, leadership, energy management, blogging, and web design, all with an eye toward efficiency. I find awesome resources so you won't be inundated with crapola. Promise.
What are you working on right now?
Currently I'm developing a book entitled "OneNote 2018 for the Real World," and I'm also writing a horror novel about the end of the world. Fun stuff. :)
When is your next writing marathon?
I typically do them once a year in the fall. :)